Webinar Invite: The 'Magic Triangle' of Fibre Based Packaging
Join UPM and Smithers Experts in Our Free Webinar
Webinar Date: Tuesday, 15 June 2021
Time: 11am - 12pm UTC+8
Format: Online Webinar
Have you set targets to improve the sustainability of your packaging? Join UPM Specialty Papers and Smithers' experts for this 60-minute webinar to discover firsthand insights and collaborative ideas that can be applied to your future business strategy!
Don't wait any longer to register for FREE! Don't miss out this chance to gain new perspectives, support the sharing of ideas, and deliver upon the promise of increased sustainability within the commercial packaging industry.
Topics That Will Be Covered In This Webinar Include:
The brand challenge: meeting consumer requirements for sustainability, performance and food safety in packaging
Sustainability benefits and advantages for fibre based packaging
Meeting food safety requirements through fibre based packaging
Co-creation across the value chain to deliver the whole package
And more...

The event will be done in cooperation with
UPM Specialty Papers
and we use the GoToWebinar tool.
About UPM Specialty Papers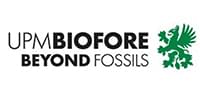 At UPM Specialty Papers, we create fossil-free alternatives for packaging materials based on paper. Our 1,900 passionate experts are ready to help you co-create the right packaging solutions for your needs and meet your sustainability goals. Best of all, our papers come from 100% renewable, responsibly sourced wood fibre.
And with our mills in Finland, China, and Germany, you can trust us to deliver quality and consistency wherever you are in the world.
Switch your packaging materials to paper – renewable, recyclable, and remarkable, it's special by nature. Learn more at
upmspecialtypapers.com
.